Boiler Installation Services For Davenport, IA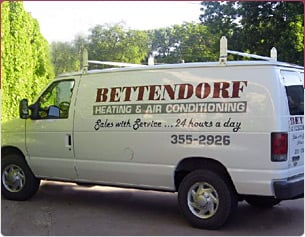 Does your hot water boiler make strange noises while in use? Does it take longer to heat your home than it used to? Is there moisture or puddles around your boiler? If you are experiencing any of these problems in your Davenport, IA home or business, you should get your boiler replaced as soon as possible. Hot water boiler replacement is fast, easy, and inexpensive when you trust the experts at Bettendorf Heating and Air Conditioning.
Boiler Replacement and Installation
The first step to replacing your hot water boiler is finding a new model that will properly heat your home. At Bettendorf Heating and Air Conditioning, we carry a wide selection of models, operating at up to 98% AFUE. Our techs will help you choose a model that has the efficiency and power you need to keep your home heated throughout the year.
They also have you covered throughout the boiler installation. In addition to shipping the boiler to your home and transporting it to the right room in your home, we will connect the ducts, water lines, and wiring. Installation is always professional, which means that it is quick, mistake-free, and doesn't leave a mess behind. Finally, our technicians can also help you dispose of your old boiler safely and legally.
Warranties and Maintenance
One of the biggest benefits of getting boiler installation and replacement for your Davenport, IA home is that all of our boilers are backed by a warranty. In the unlikely case that your boiler experiences a problem sometime after installation, our technicians will provide repairs or replacement, as necessary.
However, even if you didn't get your boiler from Bettendorf Heating and Air Conditioning, we can still provide regular maintenance that will keep your boiler in good shape and greatly decrease the likelihood that you will need boiler replacement in the future.
Contact Us Today
If you need boiler installation or replacement in your Davenport, IA home, contact us today for an appointment and free estimate. Bettendorf Heating and Air Conditioning is your best option when you want a top-quality, energy-efficient boiler at a reasonable price.