Industry Leading AC Installation & Service for Colona, IL
Looking for AC installation services in Colona, IL? We've got you covered! Let's start with why you should choose Bettendorf Heating & Air conditioning as your go-to air conditioning installation service provider in Colona. Here, we believe in excellent customer service, specialized care, and earning customer trust. Of course, you can expect high quality installation with energy efficient systems. Our systems will help you save on utility bills and promote higher comfort.
Many air conditioning companies using these products will yield similar results, but our difference is in our experience and our customer service. Quick communication from our reception to our technicians by way of digital connection enables us to provide the level of customer service that will be a difference maker, while allowing our technicians to do what they do best, install your new air conditioning system!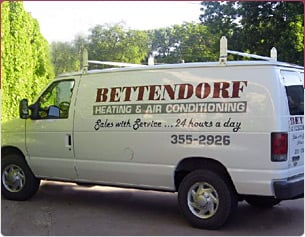 Taking It Even Further
To take it even further, we provide more value to our customers by offering a variety of benefits. Our free estimates allow you to gauge the price of the project so you can make an informed decision for what's best for you! We provide rebate, financing, and oftentimes, special promotions!
Air Conditioning Services for Colonia, IL
We are very close to Colona, IL, so providing quick service is not a problem for our expert technicians. For emergency services, please call us any time of the day. We are available 24-7! We have proudly served the Quad Cities area since 1965, bringing better comfort for better prices to our customers. We look forward to serving you!