Air Conditioning Repair
Highly efficient equipment
Decades of experience
Trained and certified technicians
Proper AC repair is essential to not only maximize your comfort, but to maximize the efficiency of your AC system. Thus, maximizing your energy bills. Running your AC system with a hinderance can be dangerous for the system's longevity, and for your wallet. Our team of qualified, certified air conditioning technicians have the experience to provide the necessary repairs on your AC. Don't over work your system by having it try to cool down your home when there is a hinderance preventing its capability to do so. Instead, the demand will be taxing on your AC system and it will be reflected through discomfort and higher bills. Instead, call our experts to fix your broken AC today!
Our AC Repair Technicians & Scheduling
At Bettendorf Heating and Air Conditioning, we ensure that our technicians are some of the best in the industry. Every technician is trained and certified on every type of air conditioning unit and system on the market. Their training is ongoing too: as new air conditioning repair techniques are developed, we update the training of all our technicians so that they are always able to provide the most state-of-the-art AC repair service possible. Our technicians are available on your schedule, even if you need emergency work completed. For emergency repairs, our team is available 24 hours a day, 365 days a year.
Flat Pricing - Guaranteed
At Bettendorf Heating and Air Conditioning, we use flat pricing in order to guarantee that you receive a consistent and competitive price every time you contact us. We charge a diagnostic fee to diagnose your problem, and with that one visit, we can determine the exact cost of your repair work so that there are no surprises after the work is done. Guaranteed pricing is just one of the many ways that we put customers first at Bettendorf Heating and Air Conditioning.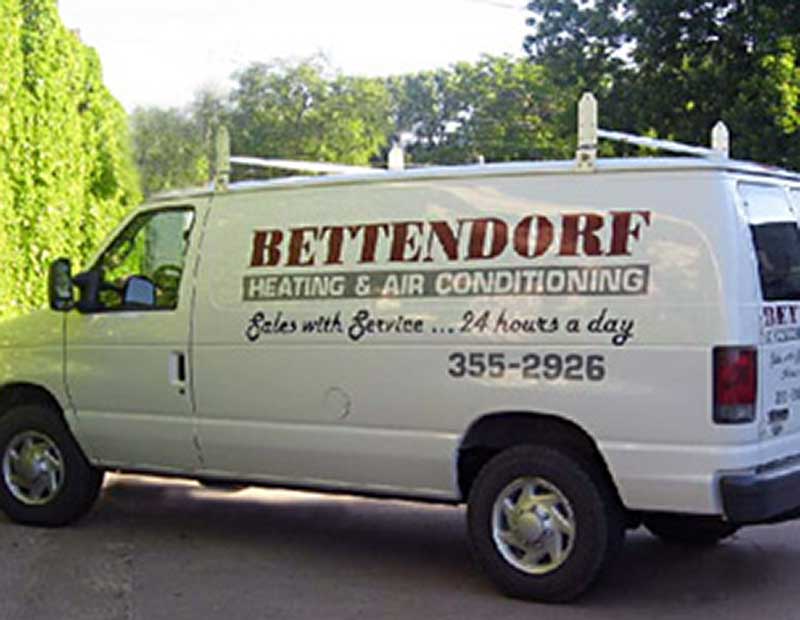 Schedule Your Air Conditioning Repair Appointment Today
If you need AC repairs or central air repair work done, contact Bettendorf Heating and Air Conditioning. We are available to provide repairs on your schedule, no matter the make or model. If you don't see any signs that your air conditioning units or central air system need repair, it's best to schedule an inspection now to avoid more expensive repairs later. For the best in air conditioning repairs, give us a call and let us know how we can help you!