Heating, Air Conditioning, and Air Quality Products
York is the world's leading independent maker of heating and air conditioning equipment. When it's time to get comfortable, it's a good time to install a new, high-efficiency York furnace.
80% plus AFUE furnaces: Single Stage, and Modulating Variable Speed
Up to 98% AFUE furnace: Single Stage, Two Stage and Modulating Variable Speed
LP furnaces
Garage hanging heaters and infrared heaters
Learn more about our heating products here.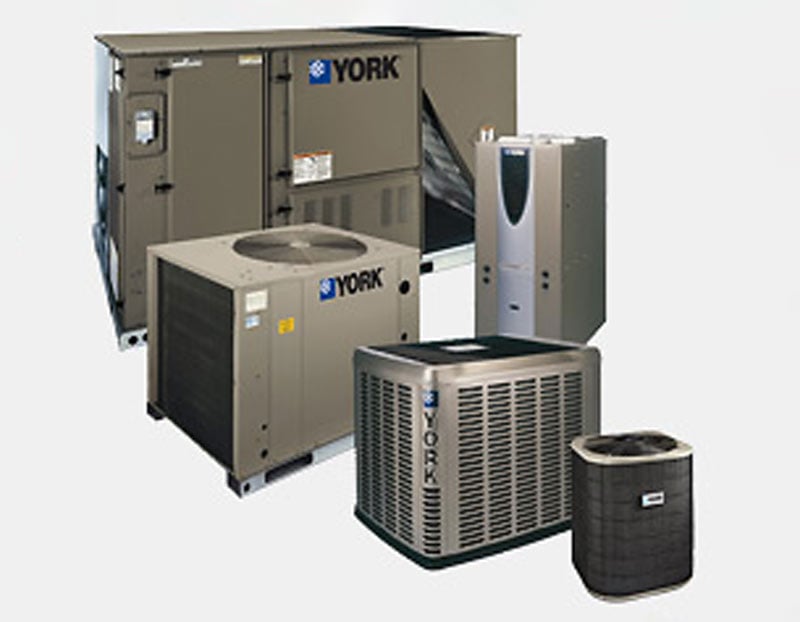 York offers a complete line of innovative, attractive, and energy efficient central air conditioning systems for homes and businesses. With a sleek, contemporary look, the Affinity™ Series is the only system on the market that gives you the choice of seven exterior colors, plus the latest technology on the inside.
Central air conditioning systems from 13 SEER to 18 SEER
Central air conditioning systems with environmentally sound R-410A refrigerant
Heat pumps up to 18 SEER provide cooling in the summer and heating in the winter
Dual fuel systems utilize heat pumps and high-efficiency furnaces for increased comfort and energy savings
Bettendorf Heating has partnered with Honeywell Corporation to provide the most advanced controls and indoor air quality products available.
Humidifiers
Air cleaners
Energy/ Heat Recovery Ventilators
Zoning systems
UV lights
Rooftop HVAC Units
York is the answer when a project calls for quality, high-efficiency commercial heating and cooling.
York equipment uses the latest technology to provide durability, efficiency, easy installation, and trouble-free operation—it's all packed into these compact units.
Units from 3 to 25 ton
Power ventilation and economizers for fresh air
Standard and high-efficiency units
Mitsubishi Ductless Mini-split Heat pumps and Air Conditioners
Mitsubishi is an industry leader in ductless heating and cooling products. These systems are ideally suited to architecturally significant buildings, or homes and businesses where there is little space to run ductwork. The staff at Bettendorf Heating is specially trained and experienced in working with historical buildings. These systems provide exceptional comfort and quiet in existing buildings where conventional ductwork will not fit.
Coleman is best known for their line of heating and air conditioning products. These systems are specifically designed for mobile homes. Standard codes prohibit the installation of regular residential heating equipment to be installed in mobile homes. Bettendorf Heating has trained and experienced technicians to handle any mobile home installation.
Improve your home or businesses chimneys with our professional chimney liner installation services!