Air Conditioning Maintenance Services For Colona, IL
Are AC maintenance services important? How can they help? Do I need them? If you find yourself asking any of these questions, ask the professionals at Bettendorf Heating & Air Conditioning. Though AC maintenance may not sound like the most exciting expense, it is one that is extremely important to the performance of your system. Your comfort and wallet will thank you.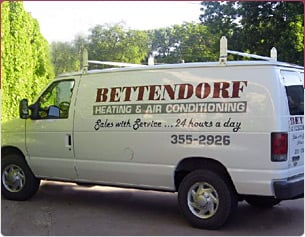 Why is AC maintenance important?
When something is wrong with your AC systems, you will be sacrificing on efficiency, less comfortable, or paying more for sub par results. Hindrances can come in different forms, but are all going to limit the systems full potential in some way. Having professional AC maintenance will not only help make sure your system is running smoothly, providing the desired results, but it will also help screen for hindrances that can snowball into costly breakdowns. When your system is running properly, you feel the results. You also know that you are not wasting money. When your system is being forced to constantly run, you are hurting longevity and probably getting worse results.
Why Rely On Bettendorf Heating & Air Conditioning
Bettendorf Heating & Air Conditioning has been serving the Colona, IL area since 1965, when the company was founded. We have helped provide for countless homes with cooling needs. We aim to provide quick services that do not lack in quality. In fact, we will provide you with a free estimate prior, so you can plan your finances as needed. If you are in need any time of the day any day of the week, we can be relied on.
Contact Us
Rely on Bettendorf Heating & Air Conditioning today if you are in the Colona, IL area looking to maximize your AC, and screen for hindrances in your system!