Air Conditioning Repair Dubuque, IA
Air conditioners are one of the many reasons we are all able to enjoy the summer. A nice air-conditioned home serves as a wonderful getaway from the blazing summer heat. But if you take away that ability to go inside and cool off, the heat becomes intolerable. So you have to ask yourself, "Does my air conditioner need to be repaired?" Whether your unit needs a tune-up or a replacement, Bettendorf Heating and Air Conditioning is your go-to company for Dubuque AC services.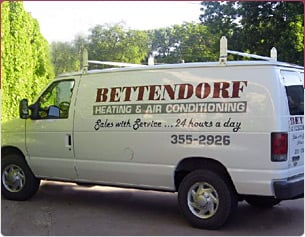 How to Know Your Air Conditioner Needs Repair
Broken parts
Gradual decrease in efficiency (less airflow)
Increase in energy bills
Varying house temperatures
Water leaks
High humidity
Warm air blowing through your vents
Strange noises
Foul smells
Why Choose Bettendorf Heating & Air Conditioning?
We use flat pricing so you will be guaranteed to receive a consistent and competitive price every time you contact us. Our repair services are second-to-none in the Dubuque area, and we will determine the exact cost of your needed repair in one single-charged diagnostic visit, leaving you without any financial surprises waiting down the line. At Bettendorf Heating and Air Conditioning, everything we do is all about the customer. Put your air conditioner in hands you can trust.
Contact Us to Schedule Your Air Conditioning Repair Appointment
If your Dubuque home needs any AC repairs or central air repair work, contact Bettendorf Heating and Air Conditioning today. We will always work to fit your schedule, and we provide services no matter the make or model of your unit. Even if your air conditioner doesn't seem to need any repairs, it's never a bad idea to schedule an inspection to avoid more expensive services down the line. Contact us today to schedule your comprehensive AC repairs!