Moline, IL Air Conditioning Installation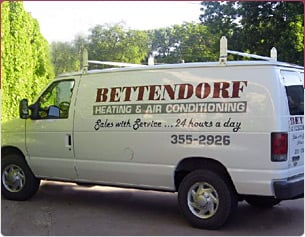 When hot weather strikes, not having an effective air conditioner can make the spring and summer miserable for your entire household. That's why air conditioning installation is important before the warm seasons begin. If you have had problems with your air conditioning and can't count on it to keep your home comfortable, air conditioning replacement should be done as soon as possible to get ahead of the hot temperatures.
Replacing Old AC Units
Older AC units were not very efficient machines. Not only did they have a harder time keeping a home cool, but they also used far more energy than modern air conditioners. For many homeowners, AC replacement is a great way to keep a home cooler for less money each month. The lower power bills allow for the new unit to pay for itself over time thanks to the significant energy savings.
If a unit simply won't work, has a chronic freon leak or freezes up often, an air conditioner replacement is the best option for having an effective and reliable unit. No homeowner wants to simply hope that their air conditioning will work when the weather gets hot. With a new unit, you'll know that your home will be kept at a comfortable temperature no matter how hot it gets outside. An AC replacement of an old unit brings that peace of mind, and it means that you won't have costly repairs every season to keep an older unit working.
Air Conditioning Installation
For new homes, getting a new, modern air conditioning unit installed is one of the first priorities. The hot seasons in Illinois make it necessary for all new homes to have an efficient unit that will keep the home comfortable throughout the spring and summer. When your home is being built, make sure that a high-quality unit is being installed. The quality of life of everyone in your household depends on your ability to make your new home comfortable for everyone. Contact Bettendorf today!