Air Conditioning Repair Services For Moline, IL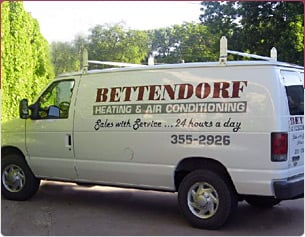 When it gets hot in Moline, IL, it gets really hot. If your AC isn't working, you'll resort to all of those tricks to try and keep your place cool: you'll leave your windows open at night, your blinds closed during the day, and you won't use your oven. But it doesn't matter. Every day when you get home from work, you're walking into a stifling, muggy house that feels much like an oven would. If this is your life, it's time for you to call Bettendorf about air conditioning repair.
Bettendorf Provides Expert Air Conditioning Repair Services
Since 1965, our family has been proud to serve the Moline, IL area. We're dedicated to our customers' happiness - this means that when you need us, we're there. We offer emergency AC repair 24 hours a day, 7 days a week, no matter how hot it is outside! All of our technicians are trained and certified in both air conditioning installation and air conditioning repair. When they show up at your house, they'll show up in a Bettendorf Heating & Air Conditioning vehicle, wearing one of our uniforms. They're well-trained - we have a separate training room that we use to ensure our technicians are up to date on how to repair and replace the latest air conditioning models. We stock thousands of parts, so you're never left waiting for an AC repair.
And the best news? We offer a very simple pricing model so you'll know that you've been treated fairly. When we come to your place to perform an air conditioning repair, we charge a basic diagnostic fee, then all other charges are pulled from our price book - so there are no surprises on your end.
If you're looking for regular maintenance of your AC unit, we do that too! We can arrange to have one of our technicians visit your property every spring to make sure your air conditioner is running for summer time.
Contact Us Today for More Information on AC Repair
Ready to get your air conditioner repaired? Then contact us today, and we'll send a technician out to get you cool again.