Heating Repair Services in Moline, IL
Has your heating system malfunctioned? Do you suspect your system is running improperly? If so, you likely find yourself either in some discomfort in your home, or you've noticed higher energy bills. Fortunately, the professional heating repair technicians of Bettendorf Heating & Air Conditioning are here to provide you with excellent heating repair and customer service so you can fully optimize your home comfort level and utility bills. We have worked on countless different heating system brands, models, and types. From infrared heating panels to central heating within the home, we do it all. We even work on mobile home heating systems. If you have a complete system shutdown in the middle of winter, we offer emergency repair services for your convenience. We proudly serve the Moline, IL area and are available 24-hours a day, so do not hesitate to call us when you are in need!
Signs You May Need Heating Repair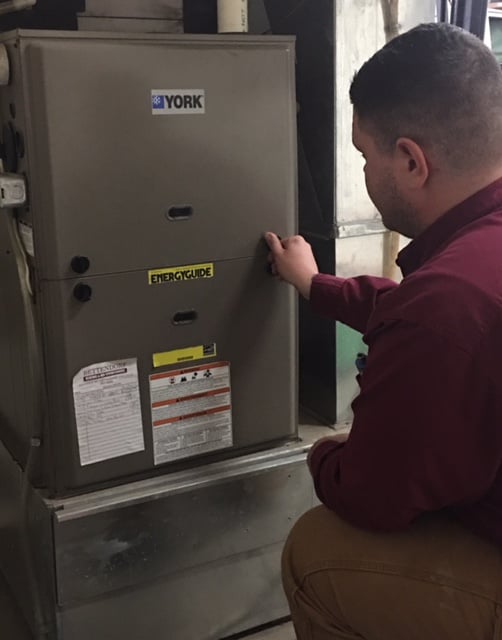 When your heater starts to fail, there are a few tell-tale signs that indicate a problem. The most obvious being, when your heating system completely fails to turn on. Some other indications may be more subtle but can still be costing you in the energy bill column while providing less-than-ideal heating. Be on the lookout for:
Strange Noises - Loud bangs, buzzing, humming, and other noises coming from your heating system.
Short Cycling – This could be a thermostat problem, an overheating defense mechanism, or improper furnace size. Not only is this inefficient, but it is additional wear and tear on your system.
Lower Than Normal Heat Levels – If you set your heat to 70 and it seems to run forever and never quite reach 70, you may have some problems with your heating and are probably running up your energy bills.
Low Airflow – If you notice your airflow is extremely low or lower than usual, you could have a problem with your fan or a blockage in your ducts. If you suspect a problem, give us a call!
At the end of the day, you know your home better than anyone else, and if you notice something is off or different, you may have noticed an issue that is better to have taken care of sooner than later. You can rely on the experts at Bettendorf Heating & Air Conditioning to diagnose the problem and offer a solution!
Why Bettendorf Heating & Air Conditioning?
We have been in the industry for over 50 years, providing top-quality service with excellent customer service. Our technicians are properly trained and highly skilled, and our customer service team provides personalized attention. We offer free estimates for your convenience as well. Give Bettendorf Heating & Air Conditioning a call today to get your home back to a temperature that is most comfortable for you!