Water Boiler Repair Services For Dubuque, IA
Hot water is an essential part of heating your home. When your water boiler goes down or is coming up short of expectation, it is extremely frustrating and can be affecting your bills. When you rely on Bettendorf Heating & Air Conditioning for water boiler repair, all you experience are excellent results with energy-efficient water boiler systems.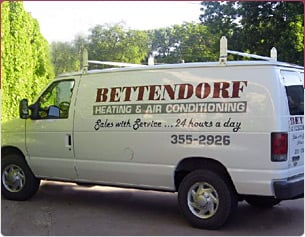 Why Bettendorf Heating & Air Conditioning?
When you choose us for water boiler repair you get a few main takeaways. One, you get an excellent product that is repaired properly so it can perform at its highest level. This allows for optimal energy efficiency and longevity. We do recommend talking to us about a maintenance program to prevent costly breakdowns. Our other takeaway is the type of company we are. We have been in service for over 50 years and aren't stopping any time soon. We are serious when it comes to your satisfaction and 24-hour emergency service. We will even get you digitally connected with our staff. To put a cherry on top, we offer free estimates, so there is no risk in calling us.
Trust the experts who have been helping better people's homes in Dubuque, IA for over 50 years. Trust Bettendorf Heating & Air Conditioning!