Davenport, IA HVAC Contractor

Winter gets cold, summer gets hot, and only your furnace or air conditioning units are able to keep your home at a comfortable temperature. But once they stop working - you'll be wandering your house in blankets during the winter, and sweating on the couch during the summer. That's why you need to talk to the best HVAC company in Davenport, IA.
Your HVAC Company
We're a family-owned operation that has been in business since 1965. Our focus? The happiness of our customers - that's why we offer dependable service, 24 hours a day, 7 days a week. That includes emergency service - we're here to help regardless of whether it's 3 AM in the middle of December, or during a family gathering in late July. Give us a call at any time and we'll have an HVAC contractor out to your place.
Our HVAC Contractor Services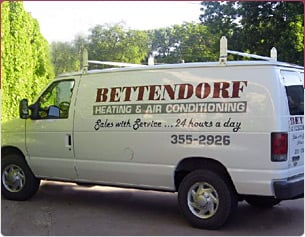 Every technician in our HVAC company is both trained and certified in furnace and air conditioning installation and repair. When you call us, we'll show up in our company vehicle with our clean uniforms on. All of our technicians are courteous, friendly, and experienced - we have a training room dedicated to keeping our technicians up to date with the different repairs and procedures required for different makes and models. We also have thousands of parts in stock.
As for cost, our HVAC company is built around being transparent and dependable. We have a simple pricing system - we charge a flat diagnostic fee, tell you what the problem is, then use a price book to quote the amount the repair will cost. There are no surprises. We offer warranties, rebates, and financing options.
For those that want to ensure they don't run into any HVAC emergencies, we offer maintenance contracts and seasonal tune-ups to everyone in the Davenport, IA area.
Give Us a Call Today for Expert HVAC Service
Whether you're looking for a new, environmentally friendly air conditioner, a brand new furnace, or a tune-up, we're ready to help. No matter what your HVAC need, we have someone on our team of experts who can help. Just give us a call!