Furnace and Heating Repair Services For Le Claire, IA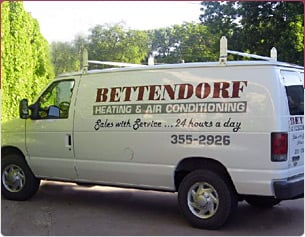 During cold days, it is your furnace or heating unit that keeps you warm in your Le Claire, IA home. If that furnace or heating unit breaks down or starts working poorly, you need fast, expert heating or furnace repair at a competitive price. Bettendorf Heating & Air Conditioning has been providing top-quality furnace and heating repair in the Le Claire area since 1965.
Fastest Service in the Quad City Area
Speed is important when it comes to furnace and heating repairs. We are able to provide faster service in a number of different ways.
Nearby technicians - We have technicians throughout the Quad City area, allowing us to provide extremely fast response times, no matter where you live
Expertise - Our technicians are highly experienced with just about every type of furnace or heating unit on the market. This allows them to quickly diagnose and repair your problem, no matter how obscure it might be
Extensive stock of inventory - Repairs almost always require replacement parts. We keep an extensive supply of inventory on hand at all times, which means we almost always have the parts need for your furnace repair in stock
Additionally, in case of emergencies, we offer 24 hour furnace repair service, 365 days a year.
Furnace Repair Service You Can Trust
We have spent over six decades building trust with our Le Claire, IA customers. We have built this trust in a number of important ways.
Standardized competitive pricing
Uniformed technicians driving marked vans
Fully guaranteed warranties
Regular training to keep our technicians up-to-date
When we provide repair services, customers know that they are getting professional services at a fair price.
Would you like to save money on energy costs and increase the life of your furnace or heating units? With one of our maintenance contracts you can. We will inspect and maintain your furnace or heating unit in the fall to ensure optimal efficiency and prevent failures.
Contact Bettendorf Today
Whether you need immediate repairs or want to get started with a maintenance contract, contact us today. Bettendorf Heating & Air Conditioning offers the best heating repair services in the Le Claire, IA area.