Mobile Home Heating Services
Expert Mobile Home Heating Installation, Repair, & Maintenance From Qualified Professionals
We provide mobile home heating services to help improve your comfort while making sure your systems are set up properly to maximize efficiency and comply with regulations for mobile homes.
When it comes to purchasing a furnace for your mobile home, there are a few things to keep in mind.
Most importantly, ALL furnaces must be specifically designed and rated for mobile homes. They may be labeled "HUD approved" or "high-static approved," but all furnaces built for mobile homes will have a label or a metal data plate indicating that they are approved for use in mobile homes. Attempting to install any other type of furnace in a mobile home could be dangerous, as the output of a traditional furnace would be too high.

The next thing to consider is fuel source. Like traditional furnaces, mobile home furnaces can operate using a variety of fuel sources, such as electricity, natural gas or oil.
Electric furnaces: Electric furnaces are extremely efficient, but can be more expensive to run. They operate by pulling in cold air and pushing it through a heat exchanger. The electric components heat the air and the blower propels it through ducts. In colder climates, electric bills in winter months will be high with an electric furnace.
Natural gas furnaces: The most popular choice among mobile home owners, natural gas furnaces have pilot lights that ignite burners inside combustion chambers that drive the heat into the heat exchangers. From there, blowers propell the heat through the ducts and into the air. Natural gas furnaces tend to be very reliable and are more quiet than other types of furnaces.
Oil furnaces: Oil furnaces work by spraying the fuel into the combustion chamber, and then burning the fuel, which creates the needed heat. The heat is then sent through ducts and released into the home. Oil furnaces tend to be cost-effective, but homeowners have to buy oil regularly to keep it running. The furnaces are also long-lasting, but are generally more expensive to fix when parts need to be replaced.
When You Need Mobile Home Heating, Our Experts Are Ready To Help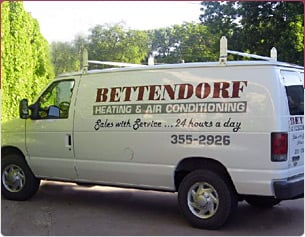 After determining your fuel source, you'll need to start evaluating furnaces based on size, efficiency and cost. Mobile home furnaces generally have efficiency ranges between 80 to 95 percent AFUE (Annual Fuel Utilization Efficiency), which is similar, and in many cases superior, to traditional home furnaces.

To determine what size furnace your mobile home needs, it's best to work with an experienced HVAC technician who can help you make decisions about your home's furnace needs. At Bettendorf Heating and Air Conditioning, our team members will work with you to help you find the best furnace for your mobile home based on all your needs: your required fuel source, your home's size and your available budget. We'll examine your existing ductwork and ventilation to ensure compatibility and make suggestions for any system upgrades there as well.
Contact Us
To have a new furnace installed in your mobile home, or to have repair work done or your current mobile home furnace, give the knowledgeable HVAC team at Bettendorf a call at 563-355-2926.
Service Areas:
Bettendorf, IA
DeWitt, IA
Dubuque, IA
Eldridge, IA
Le Claire, IA
Colona, IL
Rock Island, IL
& The Surrounding Areas